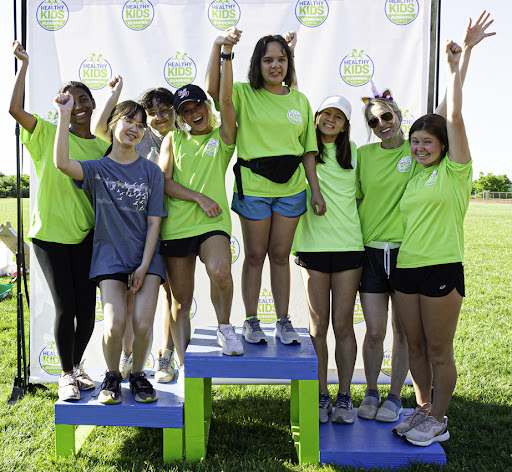 Ashley Burkett HKRS Concord Township, PA

TELL US MORE ABOUT HOW YOU GOT YOUR START WITH HKRS (as a runner, to a volunteer, to a Community Coordinator)
:
Back in 2013, I was a participant with HKRS Concord Township…and now 10 years later I am the Community Coordinator of this AMAZING organization! Though I had always been active in sports such as soccer and lacrosse from a young age, my running career didn't pick up until 2022 in my Junior year of High School. I started out with the cross country team, fell in love with the sport and environment, and then continued to become an influential member of the Garnet Valley High School 2022 indoor and outdoor track teams. This addition of running to my life is truly when I began investing my time and heart into HKRS.
I began volunteering every Sunday, getting there early and leaving late, not because I needed the volunteer hours for school but rather because I truly enjoyed being there. I started to make connections with families in the community as I ran alongside their kids. I saw so many smiling faces on the start line each week, and the familiarity with each runner grew every Sunday afternoon. I eventually popped the question, "Is there anything else I can do to help with Healthy Kids?", to the coordinators at the time. I was then put in touch with HKRS organizers, who thankfully gave me the opportunity to take on a larger role within the organization. From there, it took off and the seasons flew by with the snap of my fingers! I knew my dedication and heart would have a great impact on HKRS Concord Twp, and I am so thankful I was given the chance to work with such amazing families, kids, and fellow HKRS coordinators. I was looking to have a positive influence on HKRS, but little did I know HKRS would end up influencing me in the long run. 
WHAT MADE YOU WANT TO BECOME A COMMUNITY COORDINATOR AFTER RUNNING AND VOLUNTEERING WITH HKRS?
Being a runner in the past I knew what these kids needed going into and during their run. Believe me when I say I was not at all the strongest runner when I participated with HKRS, and so from this perspective, I was able to provide to others what I once needed. I liked to focus on the emotional aspect of running for these kids in creating a positive environment. Being a runner can take a toll on someone's body and mind, but with a positive outlook, it can become such an amazing hobby and life skill. At the start line every week while volunteering I would stretch out with the runners, and then we would "shake out". All of the kids and I would jump up and down and shake our arms and legs right before the run as if we were shaking all of our nerves out of our bodies. This silly method truly helped me during my seasons. 
I loved spreading the message of how running can change someone's life, as it wholly altered mine. I wanted to pursue a higher position within HKRS in order to spread the message of the organization to which I strongly relate. Being a runner I gained perspective, being a volunteer I implemented my message, and being a coordinator I resonated with the organization while continuing to make my mark. 
WHAT'S A GREAT MISSION MOMENT YOU'VE EXPERIENCED AS A COMMUNITY COORDINATOR?
The best mission moment for me happened outside of HKRS Sundays. I was on a long run for recovery during the cross-country season when the Elementary School buses began driving past. The kids inside recognized me, put down the windows, and started screaming "Hi Ashley!!!". This is when I realized I had a presence in the community that mattered to these kids. I wasn't just a coordinator at the finish line but a close friend to 250+ kids. Alongside this moment I saw countless runners supporting each other within their runs, friendships form behind the scenes, and memorable family experiences made. 
WHY DO YOU LOVE HEALTHY KIDS?
Not only does Healthy Kids spread an amazing message about the value of running, but it brings communities together over a common love. I have made so many friendships with local families and kids that I will forever value, but I additionally know that HKRS brings runners together. In fact, I have a picture of my current best friend and I running at Healthy Kids together 10 years ago, and here we are graduating high school together! Every Sunday from 4:00 to 5:00 was just a huge group of people all looking to get together, stay active, and have fun. It additionally brought my family together as they supported me in my endeavors, and I couldn't have gotten through these seasons without them! I loved being welcomed into this group of people that HKRS has formed in Concord Township, and I will never forget the lasting role it has played in my life. 
WHAT WERE YOUR GOALS FOR THE LOCAL PROGRAM WHEN YOU FIRST STARTED WITH HKRS?
My goal in general for Senior year was to "be the upperclassman I wish I had as an underclassman", which then translated over into my impact on Healthy Kids. When I volunteered with the organization my goal for each Sunday was to be an individual support system for each runner. I cheered on every kid, ran alongside any runner who may have been struggling, was the "hype man" on the start line, and so much more. These aspects of my impact then went into how I handled the 2022-2023 seasons. I didn't want to be separated from the kids now that I had a new role, so I took on a new perspective as the coordinator instead. Now I could connect with families and kids as the runners crossed the finish line, still be their main "hype man", and encourage our wonderful volunteers to become involved with our runners.
FUN FACTS ABOUT ME
:
I ran the 800m and 400m for track

I have played soccer, lacrosse, and ran both cross country and track over my high school career

I have two mini Australian Shepherds

I am only 5' tall, so some runners were taller than me!!

My favorite celebrity is David Muir 

I grew up being a Penn Stater and went to my first game at 6 weeks old

My family loves to travel

I was voted worst driver in the Senior Class 🙁
FUTURE PLANS POST-GRADUATION?
I am a recent graduate of the Garnet Valley High School Class of 2023, and soon to be University of Maryland Terrapin! I will be majoring in Journalism alongside a minor in Law & Society. The ultimate goal is to end up on your TV screen, so maybe you'll all see me again someday!
SHARE PICTURES WITH US!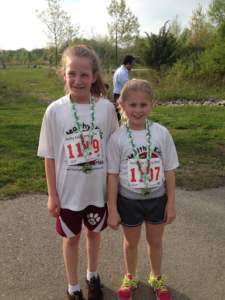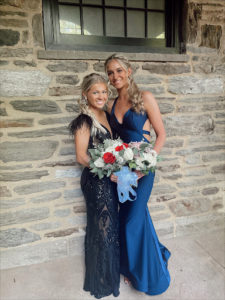 These pictures are of my best friend and I (Christie Nancarrow) running together at HKRS back in 2013, and still being friends at our senior prom in 2023 🙂 Just a fun comparison that shows how HKRS creates friendships that last a lifetime!