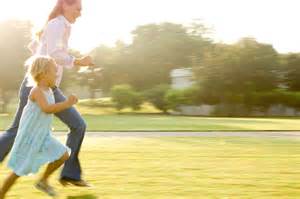 Training Tips for Parents
The line between encouraging your kids to enjoy a sport and pushing them to seek athletic perfection can be a very fine line for some parents.  Hal Higdon, internationally acclaimed marathon guru offers the following suggestions to encourage your kids, keep them motivated, and to instill in them a lifelong healthy habit:
1.      Be a good role model: Children love to emulate their parents, siblings, grandparents, and other friends or family members.  Start your own healthy habits, and your kids are sure to follow suit.
2.      Make sports fun: Join a 5k fun run, do a mini-obstacle race, push your child in a running stroller, or invite your older child to ride their bike alongside as you run.
3.      Run with them: If you are a competitive runner, weekend warrior, or even a non-regular runner, ask your child to join you.  Whether it's just a half mile cool down, or a track workout, your children will love the company and enjoy doing something with you.
4.      Let them set their own pace: Pretty self-explanatory. There's no reason to push them too hard that they quit, however, gentle encouragement is great!
5.      Don't over train or over race them: Despite what they might think, it is very important to set limits.  Overtraining doesn't work for you, and it will especially backfire for new and inexperienced runners.