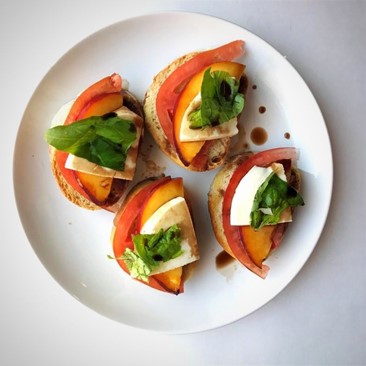 Peaches are a beautiful, fuzzy, stone fruit, that when at their peak are deliciously sweet and juicy.  Summer is the best time for peaches.  The peach season runs from early May to late September.  In addition to being a delicious summertime treat, peaches offer many health benefits! They are great for digestion, boost your immune system, and can help protect your skin and eyes.
Benefits of peaches
Aid in Digestion: a medium peach has about 2 grams of total fiber and provides both insoluble and soluble fiber, helping to promote healthy digestion.  Insoluble fiber adds bulk to the stool while soluble fiber acts as a prebiotic, providing food for beneficial bacteria growth in your intestines.  Peaches help to reduce inflammation and improve digestion.
Boost your immune system: Peaches are packed with essential vitamins and nutrients that boost the immune system.  They are packed with Vitamin C, Vitamin A, magnesium, phosphorus, iron, and some B- vitamins.  These vitamins and nutrients help to strengthen immune cells and form the mucous membrane in the respiratory tract protecting the bloodstream from germs.
Protect your skin and eyes: Peaches have beta carotene and vitamin C to support healthy skin.  Beta carotene helps protect skin from sun damage.  Vitamin C is needed to build collagen and improves skin's elasticity.  Peaches also contain antioxidants that protect the eyes from macular degeneration and cataracts.
Control Blood pressure and reduce bloating: Peaches contain potassium, a mineral that promotes healthy blood pressure by relaxing blood vessels and acting as a diuretic to remove excess sodium and fluid out of the body relieving pressure on the heart. This also leads to less abdominal bloat!
Peaches can be enjoyed in both savory and sweet dishes.  We recommend trying this Peach and Tomato Bruschetta from OnPoint Nutrition at your next Summer BBQ!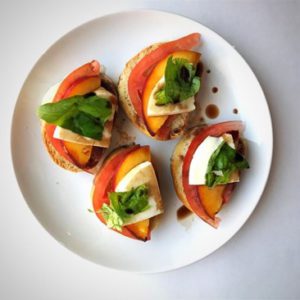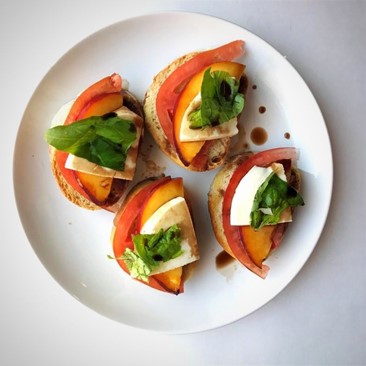 Peach and Tomato Bruschetta
(4 Servings)
Ingredients
1 baguette Whole grain baguette, sliced and toasted
2 peaches Ripe peaches
2 tomatoes Fresh, summer tomatoes, sliced thin
1/4 cup Fresh basil, sliced into thin ribbons
1 pinch Coarse salt
1 pinch Freshly cracked pepper
1 tablespoon Balsamic vinegar
4 ounces Fresh mozzarella cheese, cut into 7 slices
Directions:
Place toasted baguette slices (12) on a serving tray.
Top with a slice of peach, a slice of tomato, a slice of mozzarella, and a second slice of peach. Sprinkle generously with salt and pepper.
Top with basil ribbons and drizzle with balsamic vinegar.
4. Serve immediately.
Awarded Philadelphia Magazine's – Best of Philly 2018, OnPoint is your go-to for all things health and nutrition. We are a team of Registered Dietitians and Nutritionists who believe in a whole foods, anti-diet approach to healthy living. Our evidence-based, one-on-one, virtual approach ensures you receive the highest level of service and sustainable results. Click here to learn more about the OnPoint approach.