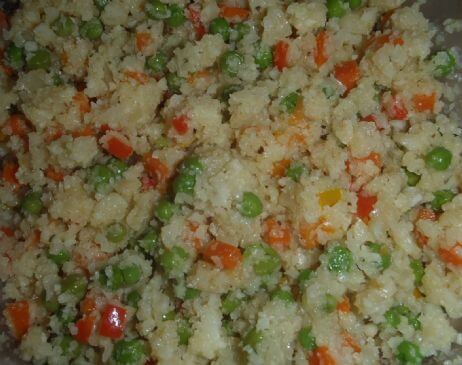 Cauliflower is the ultimate fall veggie.  Despite it's lack of color, Cauliflower has a ton of vitamins and minerals and it's also low in calories.  One of the easiest ways to get Cauliflower into your family's diet is Cauliflower rice! It's super easy, fast, and can even be frozen for a super speedy dinner.  Here are 2 varieties to try out with your family!
Mexican Cauliflower Rice
3 cups Cauliflower florets, washed and stems removed
1 Tbsp. Olive Oil
1 small onion, diced
3 diced cloves of garlic
1 jalapeno (diced)
2 medium tomatoes, chopped
3/4 cup diced pepper
1 tsp cumin
1/2 tsp red chili powder
1 tbsp. chopped cilantro (optional)
Add cauliflower florets to a food processor, and process until it resembles rice texture- don't over-process or it will be too mushy.
Heat oil in a large pan and fry onion, peppers, jalapenos, and garlic. Stir fry for a few minutes until onion is translucent. Add tomatoes, cumin, chili powder, and salt to taste.  Add the cauliflower rice and cook 3-4 minutes until tender.
Rainbow Cauliflower Rice
1/2 cup each diced:
Carrot, yellow bell pepper, red bell pepper, orange bell pepper, shallots or onion
3 cloves garlic, minced
1 head of cauliflower
3 tablespoons olive oil
1/2 cup chicken broth
2/3 cup thawed frozen green peas

Directions

Core and chop cauliflower into large pieces or chunks process in batches a blender filled with water by pulsing a few times, then strain through a wire sieve and place over a bowl to drain well, squeezing to get out excess moisture. Set aside and dice up your veggies. In an iron skillet(or skillet of your choice) sautee carrots and garlic in 2 tbsp olive

oil

for about 5 minutes, add shallots and sautee for 5 more minutes, then add peppers and sautee for 5 minutes longer. Add about 4 cups of the cauliflower "rice" and add 1 tbsp olive oil. Sautee over med/high heat for about 10 minutes…it should be dry-ish. add peas and chicken broth and continue cooking for 5 minutes or until peas are heated through.