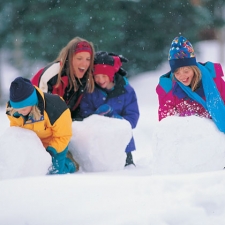 Holidays are a great time to spend with family and friends and celebrate traditions. But it's also a great time to start some new yearly activities to get your family moving!
Plan out your days. Get a big calendar that is highly visible so that the family knows what is going on which day.  This will allow you to stay organized and still plan times to add new activities like a fun run.
Don't totally ignore special treats.  It's pretty much a guarantee that the holidays mean some extra calorie consumption, so plan for this by adding in some extra fruit and veggie servings, or replacing a pizza night with a healthier option- for the holidays at least!
Try something new!! Look for a Jingle Bell fun run in your area, or plan an evening walk with a group of friends to check out lights.  It's a great way to incorporate friends, holiday fun, and exercise.
Trade 'stuff' for experiences.  Instead of giving your children another toy, opt for an experience like a yearly pass to an interactive museum, or plan a day trip to a city that you have never been to.  Walking around all day and sampling all that a new place has to offer can be much more memorable than something that is purchased in a store.
Enjoy the experience! This might mean skipping an activity or two, but cut down on stress so that you all can enjoy an activity together.  Plan down time that you can spend as a family and do a spur of the moment activity like ice skating! Children will always remember the little things like this more than anything else!