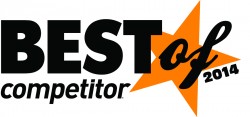 Thornton, PA (December 8, 2014) – Competitor Group, a global services, media and event management group dedicated to the Active Lifestyle Industry, encouraged their regional readers of Competitor Magazine to vote for their 'Best of 2014'. Those readers in the Southeast market including Georgia, Florida, the Carolinas and surrounding states have selected Healthy Kids Running Series – Asheville, NC as the "Best Race for Kids!"
The five-week HKRS Asheville Series for boys and girls took place at Fletcher Park in Fletcher, NC.  The inaugural Series this past fall witnessed over 90 youth runners. Community Coordinator Aaron Saft is responsible for the marketing, organization and execution of the program.
"This was a dream come true!" said Aaron Saft, HKRS Asheville's Community Coordinator. "When I moved to Asheville, almost 8 years ago, it was part of my mission to develop a youth running program such as HKRS. I was inspired and touched by what transpired this past fall. From watching my own children run and seeing the sheer joy of those involved, I knew we had done something awesome! Having the recognition from Competitor Magazine was a great validation!"
Aaron and HKRS are excited to return to Fletcher Park to kick-off the HKRS Spring program April 12, 2015. The spring program will run on April 12, 19, 26 & May 3, 17, 2015.
For more information, to start a race, or to register your children to participate in Asheville or other locations around the country, please visit www.HealthyKidsRunningSeries.org and select the 'Locations' tab. Registration for the spring series will open on January 1, 2015.
About Healthy Kids Running Series
Healthy Kids Running Series is a 501(c)3 nonprofit organization headquartered in Thornton, PA. Founded in 2009, HKRS combats the increasing rates of childhood obesity by providing children Pre-K through 8th grade with a positive, educational and fun introduction into the world of running. In 2015, HKRS will operate in over 100 domestic communities and feature over 20,000 youth runners. HKRS plans to add locations within the continental US as well as in Canada, Puerto Rico and Mexico.
###