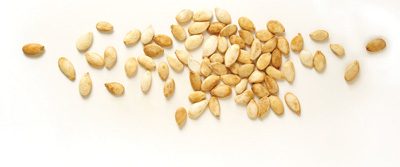 It's time to get carving! At our house, the perfect fall snack couldn't be any easier and comes from one of our favorite fall activities- pumpkin carving! Our regional sponsor Giant Food Stores, recently published this awesome recipe for roasted pumpkin seeds on their website
You can even make variations to your family's tastes! Before baking, add in a little cinnamon and sugar for sweetness, try some chili powder or granulated garlic for a savory taste too!
Preheat oven to 325°F. Using a large spoon, remove seeds and pulp from pumpkin. Rinse seeds under cold water, picking out the pulp and strings (do this before the pulp has dried). Spray a large baking sheet with cooking spray, spread out seeds in a single layer and spray tops with cooking spray. Sprinkle with salt and bake for about 25 minutes, checking and stirring after 10 minutes. Let cool and store in an air-tight container.
Nutrition information per serving: 140 calories, 6g fat, 1g saturated fat, 0mg cholesterol, 300mg sodium, 17g carbohydrate, 6g fiber, 0g sugars, 6g protein