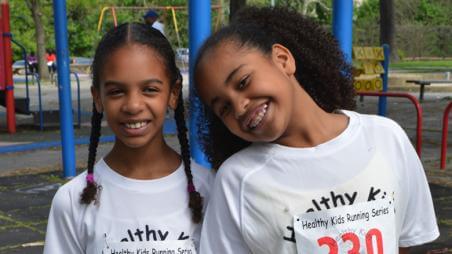 The Children's Hospital of Philadelphia (CHOP) Healthy Weight Clinic is partner of our West Philadelphia location and supplements registration fees for families that would otherwise not be able to afford our HKRS program.  We are very thankful that we are able to offer the HKRS races to kids of all abilities and economic backgrounds so that we can help combat childhood obesity and get kids excited about leading healthy lives!
The Healthy Weight Program advances the prevention and treatment of childhood obesity by integrating excellence in clinical care, research, quality education and community advocacy. Our vision is to be a premier pediatric program dedicated to the prevention and treatment of childhood obesity.
The program sees overweight and obese children and adolescents between 2 and 18 years of age. Your child's primary care provider can tell you if your child's Body Mass Index (BMI) is at or above the 85th percentile for their age and gender.
Treatment programs are tailored to the needs of the individual and include behavioral modification, physical activity assessment, and medical management.
Thank you CHOP Healthy Weight Clinic for supporting HKRS and helping our kids #getupandgo! Want to learn more and read some testimonials? Click here