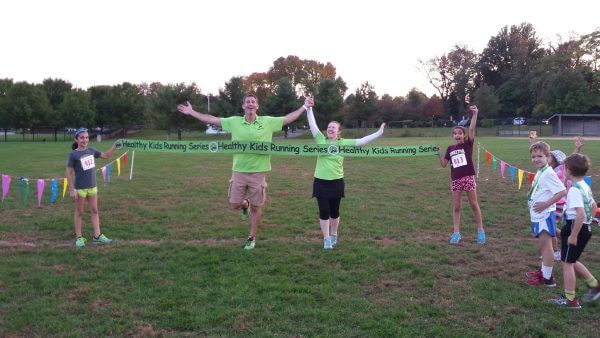 At the Healthy Kids Running Series Headquarters, we get calls and emails on a daily basis about starting a Series, so we thought we would give a very brief overview about what it means to be a HKRS Community Coordinator!
Bringing a Series to your town means a lot! First, you will be giving kids the opportunity to participate in a cross country style running race, you will be getting your runners excited about being healthy and active, and you will be providing your runners, parents, grandparents, friends, and sponsors with an opportunity come together as a community of support for your local kiddos.  Across the board, our Coordinators report over and over that they love seeing the smiles on all of the kids faces, and how excited they are to come to the Series each week and participate.  It's a feeling unlike any other!
Now, what does it take to be a Coordinator? Not much, other than a love of kids, enthusiasm about exercise and healthy living, and a little bit of time!  The job of the Coordinator is multi-layered.  Our Coordinators are responsible for finding a facility for the races, marketing their series to the community through social media and paper registration flyers, and securing a sponsor or two (or ten- if you're into all that).  Coordinators also manage race days with the help of family and friends, and community volunteers.  The final piece of the puzzle is reporting results to HKRS Headquarters, and keeping in touch with the Series families.
The HKRS staff is here to help, every step of the way.  All of our Coordinators are assigned to a full time staff member to answer the day-to-day questions, new Coordinators are paired with a mentor, and our staff personally meets at the location of new Series to map courses and walk through a race day.  Coordinators also receive a How-to Manual (a HKRS curriculum), easy to follow time line, informational conference calls, and much more!  Nervous about ordering products? Don't be! Everything that is needed to put on a HKRS race is shipped right to your door, including t-shirts, medals, and trophies.  Best of all, there's no initial cost incurred by the Coordinator, and gross profits from the series are 50/50 split.
Sound like it might be for you? Want to start a Fall Series? Click Start-a-Race link by June 1 to bring HKRS to your town this September!
https://healthykidsrunningseries.org/the-rundown/bring-hkrs-to-your-town/