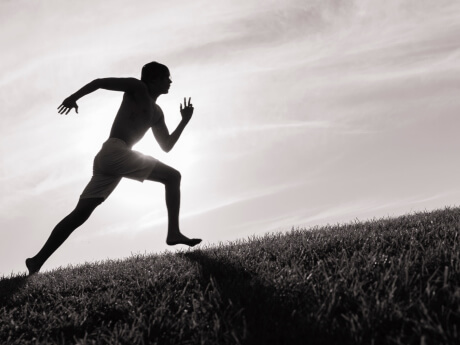 Hills are definitely the toughest part of running. But let's face it, practice definitely makes perfect in this scenario.  Form adjustments and cadence can help to make the up-hill battle a little less difficult. Here are a few tips from Runner's World Magazine to help your little runner get through the hills in record time!
Maintain good form-> As you ascend, shorten your stride and keep your feet low to the ground. Try to keep your head, chest, and hips perpendicular to an imaginary horizontal line. On descents, take short, quick, light steps and keep your center of gravity over your legs.
Start easy-> For your first hill workout, jog for 10 minutes to warm up, then walk for two minutes. From the bottom of a gentle incline, run up at an easy pace for five seconds, then walk back to the starting point. Run up again for seven seconds. Walk down. Run for 10 seconds, then walk down. If you're feeling strong, repeat the sequence. Cool down with a 15-minute jog.
Stick with it-> Schedule a hill run every seven to 14 days. As you get stronger, add time to your segments and/or add an additional hill until you're running 10 inclines. If you're training for a hilly race, try to mimic in your workouts the types of hills you'll encounter in your race. When motivation lags, run hills with a buddy and take turns leading the upward charge.