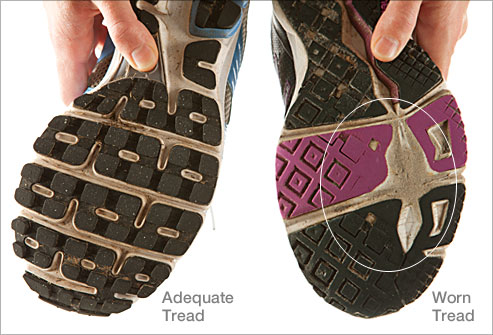 So, now that HKRS Fall is completed (or just about there…) it may be time to purchase a new pair of running shoes for your kiddo, but it seems like school just started! How can this be?! Here are a few things to look for when considering whether to purchase new kicks or deciding to wait.
Look at the sole.  Is the rubber sole of the shoe worn to the point that the foam-like layer of midsole is visible? This can be a tell-tale sign that it is time for a new pair.  Wear on the rubber sole part can also tell you a lot about the kind of shoe that your child (or you!) may need.  Wear on the outer part of the heel may indicate that you are in need of more support, wear on the toe section may indicate the need for extra cushioning.  It is always your best bet to go to a specialty running store for proper assessment and take your old shoes along!
The foot bed inside the shoe is worn, frayed, or peeling.  Again, another good indicator that shoes are ready to be retired.
The feeling is off.  When shoes start to wear, their ability to absorb impact decreases.  Legs might start to ache or feel tired more quickly when shoes start to lose cushioning.
Laces are starting to fall apart.  This is not a guarantee, but laces shredding, plastic ends falling apart, it's either time to replace the laces, or time to look for the above signs that new shoes are needed!
Information adapted from Competitor Magazine