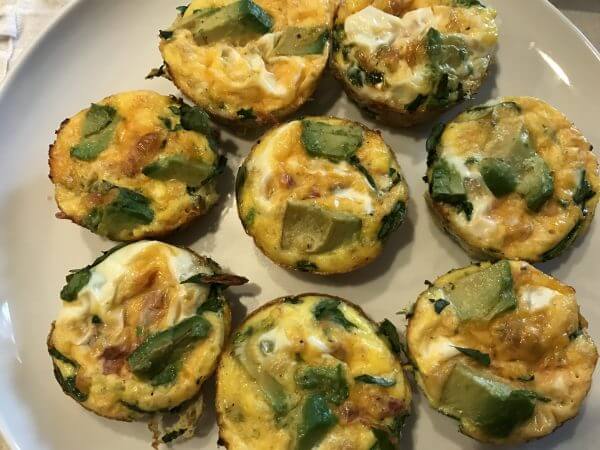 Everyone hates Mondays.  Back to school, back to work, ugh.  Especially cold, dark Mondays.  One little way to make your Monday morning a little better is with a warm, healthy breakfast.  A super easy breakfast that you can whip up in a few minutes is an omelet in a cup! This recipe can be made in advance and heated up in a microwave or toaster oven.  You can also make a ton and freeze them for a super convenient no fuss morning meal.  Feel free to change up the ingredients with whatever your family likes! Throw in some chicken sausage or bacon, swap out the spices, and even go with a different theme like Greek Omelet (Kalamata olives, spinach, roasted red peppers and feta).  Go crazy!
Ingredients:
10 eggs
4 tablespoons milk
4 dashes of chili powder
salt and pepper to taste
shredded spinach, shredded cheese, salsa
Preheat your oven to 375 degrees.  Grease 12 muffin cups. Fill the muffin pan cups with spinach, cheese and a little less than a tablespoon of salsa.  Set aside.  Beat eggs, milk, chili powder, salt and pepper.  Using a cup , pour the egg mixture over the spinach/cheese/salsa to just under the top of the muffin cup. Bake 15-18 minutes or until set and slightly browned.