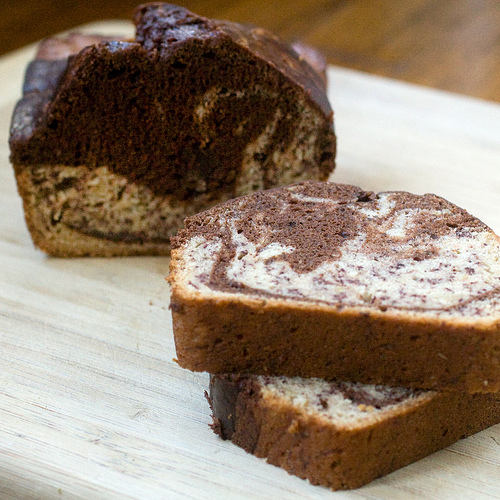 If your family is anything like ours, getting your kids to eat ACTUAL fruits and veggies can certainly be a challenge.  My children also tend to think that anything with a fruit or veggie in the name is an actual part of their daily nutritional needs (no, Apple Jacks are in no way made of actual apples).
One way that I have found to innocently 'trick' my kids into consuming more nutrients are to hide them in goodies that they love.  Check out this recipe for Chocolate swirl banana bread- it's full of banana goodness, cocoa, and it's diary, nut and egg free too! It's a guarantee winner in our house!
1 cup mashed very ripe banana
3/4 cups sugar
1 teaspoon pure vanilla extract
2 tablespoons canola oil
1/3 cup almond milk (or your preferred non-dairy milk)
1 1/2 cups all purpose flour
3/4 teaspoon baking soda
3/4 teaspoon salt
3 tablespoons unsweetened cocoa powder
6 tablespoons boiling water, divided
Prepare boiling water, no need to measure yet. Also, preheat oven to 350 F.
Mash the banana in a large mixing bowl until relatively smooth. It should take 3 average sized ones, but spoon the mashed 'nanas into a measuring cup to make sure, then return to the mixing bowl. Beat in the sugar, canola oil, milk and vanilla.
Now add the flour, baking soda and salt and gently mix just to incorporate. It's okay if there is some flour still visible, just be careful not to overmix at this point.
Scoop one cup of the batter up and transfer it to a separate mixing bowl. Now, in a small tea cup mix the cocoa powder with 3 tablespoons boiling water and stir vigorously with a fork until the chocolate is dissolved. Add this chocolate mixture to the one cup of banana and mix until the chocolate is thoroughly smooth and incorporated.
Now back to the original plain banana batter; add 3 tablespoons of boiling water and mix the batter just until relatively smooth.
Here comes the fun part, it's time to marble! Lightly grease an 8×4 loaf pan. Scoop alternate 1/2 cup of chocolate/banana batter into the loaf pan. Nothing has to be precise here, in fact, the more random, the better. Once all of the batter is in, take a butter knife and swirl it through the batter in circular directions for about 10 seconds.
Bake for 55 minutes. Use a butter knife to test for doneness. Let cool and enjoy!
Recipe from www.theppk.com ; Post Punk Kitchen by Isa Chandra Moskowicz