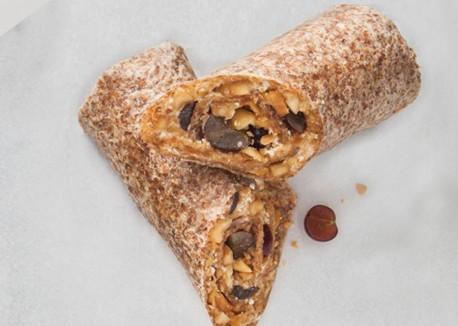 Finding snacks that are good for your kids, travel well, and won't turn into a giant at the bottom of a backpack can feel like trying to chase a unicorn, but never fear! Vegetarian Times magazine has published the perfect recipe! Have a peanut allergy in the family? Feel free to substitute sunflower seed butter or you other favorite spread.  For even more variety, change out the grapes and substitute other berries like strawberries and raspberries.  The possibilities are endless!
Ingredients:
1 8-inch multigrain or sprouted tortilla
2 Tbs. chopped dry roasted unsalted peanuts
6 halved red seedless grapes
Instructions:
Mash tofu with peanut butter and cinnamon in small bowl. Spread mixture on tortilla, and sprinkle with peanuts. Place grated apple and grapes in a line just below center of tortilla. Roll up tortilla, folding in sides as you go. Serve with soymilk or nonfat milk.
Nutrition Information:
Protein: 19 g
Total Fat: 24 g
Looking for more great vegetarian snack options? Check out http://www.vegetariantimes.com/