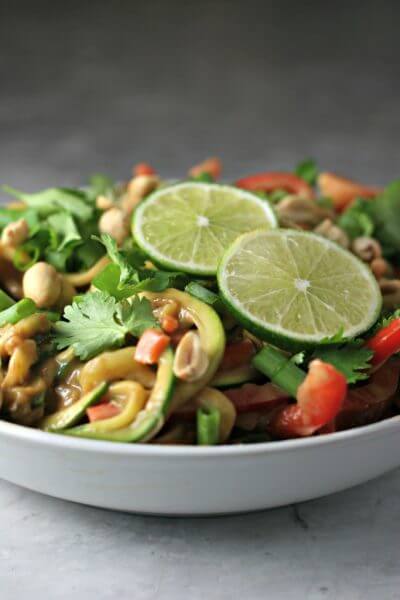 May is one of the best times of year for locally produce.  While summer is right around the corner, you can still find a ton of great items that are produced locally.  One of our favorites is Thai Peanut Zoodles! You can purchase a zoodle maker online for a few bucks and it's a great way to 'sneak' veggies of all kinds into some kid-friendly dishes like spaghetti! Check out these easy peanut noodles- or substitute in another type of nut or seed butter!
Ingredients
1 Carrot
1/4 cup Cilantro, fresh
1 Garlic clove
1/2 tsp Ginger, ground
4 Lime, slices
1/4 cup Peanuts
1/2 Red bell pepper cut into match sticks
3 Scallions
4 Zucchinis spiralized, small
2 tbsp Lime juice, fresh
1/4 cup Peanut butter, smooth all-natura
1/8 tsp Red pepper flakes
1 tbsp Coconut oil
2 tbsp Sesame seed oil, toasted
3 tbsp. soy sauce or tamari
Whisk together all ingredients of the peanut sauce and set aside.
Add coconut oil to a large skillet or wok over medium high heat. Add zucchini, carrot, peppers and sauté for a 1-2 minutes, until zucchini is tender crisp, but not mushy!
Remove from heat and stir in sauce.
Top with cilantro, scallions and peanuts.
Serve with a slice of lime and enjoy!
Thank you BeginWithin Nutrition for this great recipe! http://www.beginwithinnutrition.com/2015/09/08/thai-peanut-zoodles/