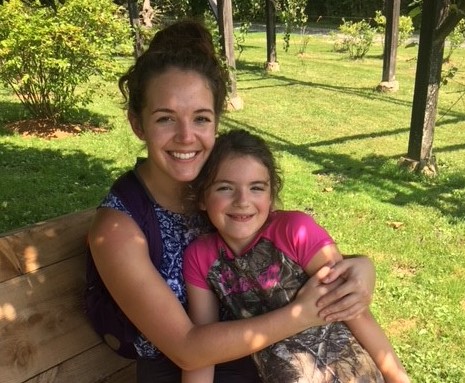 As each season approaches, there is a new wave of families learning about Healthy Kids Running Series for the first time.  With the temperatures starting to drop, the leaves starting to change and the kids returning to school, we could not be more excited because we know that our season is fast approaching!  Soon, there will be kids racing along the fields of there local schools and parks, some returning to HKRS to compete at new distances, and others running in their very first races.
Recently, we caught up with Marissa Sisson, mother of Alaina, who was a first-time runner in the Johnstown, Pennsylvania Series just last spring.  They were happy to share some of their sentiments as first timers in our program.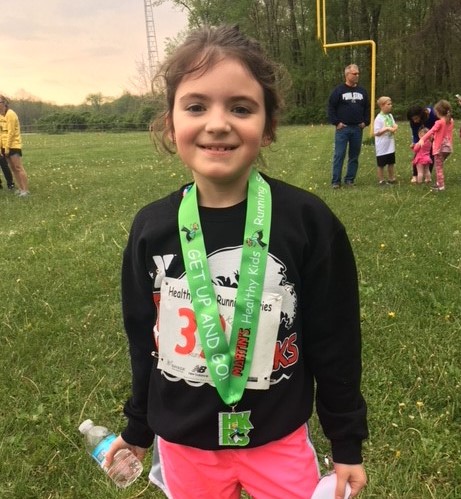 Marissa found out about the Series in Johnstown at the beginning of 2018, and she decided to sign up Alaina.  Alaina was quite nervous at first and a bit hesitant about the idea of running a half-mile, as she had never been in a race.  As it got closer to the first day of the Series, Alaina got a bit more nervous, but she arrived on race day, ready to give a strong effort.
Out on the race course, the distance proved to be difficult, but Alaina did not give up.  HKRS volunteers in their green shirts were all over the course, and one even followed her along, giving her strong words of encouragement the entire way.  As she rounded the bend for the finish line, Johnstown Community Coordinator Candy Yoder was there to bring her home, running the last yards of the race to ensure that Alaina made it all the way.
Energized and bolstered by the encouragement, Alaina grew more determined as the weeks passed.  Each week, her times dropped, and she transitioned from worrying about finishing and her place, to how she could improve her own times and feel better while she ran.  By the last weekend, Alaina had improved dramatically, and she was proud to take home the Healthy Kid Award for her Series.
This snap shot of a first-timer at HKRS is a microcosm of the experience that we want to offer to our participants.  For many, this is their first race ever and might even be their first athletic experience.  Because of that, it is completely normal and expected that your child is going to be nervous, scared, or apprehensive.  The idea of completing something on your own can often be a foreign concept for children at a young age.  But, when they do it for the first time, watching their confidence build is one of the most rewarding experiences we can offer.
Healthy Kids Running Series is built on community and encouragement.  Just as Marissa and Alaina described, success in our program is determined by personal improvement and intrinsic goals.  Whether it is finishing your first ever race or dropping your time by a minute (or just by a second), we celebrate and encourage these achievements for each runner.
many times we have seen children shedding tears before their first races, only to become some of the fastest and most exuberant runners by the end of the Series.  Therefore, we encourage the children to complete each race unassisted.  That intangible feeling of self-accomplishment is immeasurable.
We cannot wait to hear many more stories from first time and returning racers this fall.  If you would like to share your story, please head over to the share your story page by clicking here.  Additionally, don't forget to use our hashtags: #HealthyKidsRunningSeries #HealthyKids2018 and #GetUpandGo on your pictures and videos this fall, so that we can share them with our community! Happy Racing!!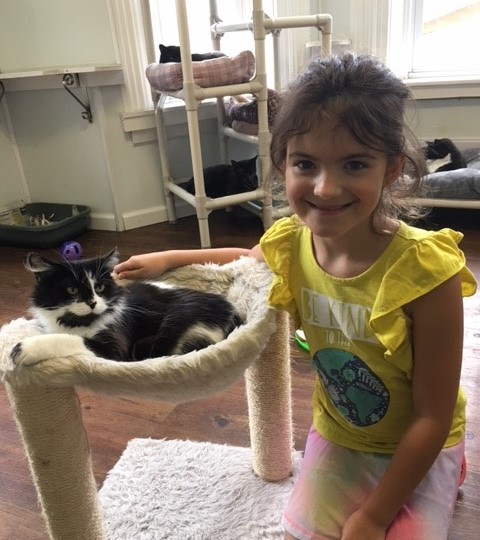 Alaina and Marissa are from Johnstown, Pennsylvania where they recently adopted a cat, Java, from a local shelter.  Alaina is also a member of the YMCA Swim Team and a talented drawer.  They enjoy going on hikes and runs together.  Alaina is entering the 3rd Grade and excited to return to HKRS this fall!