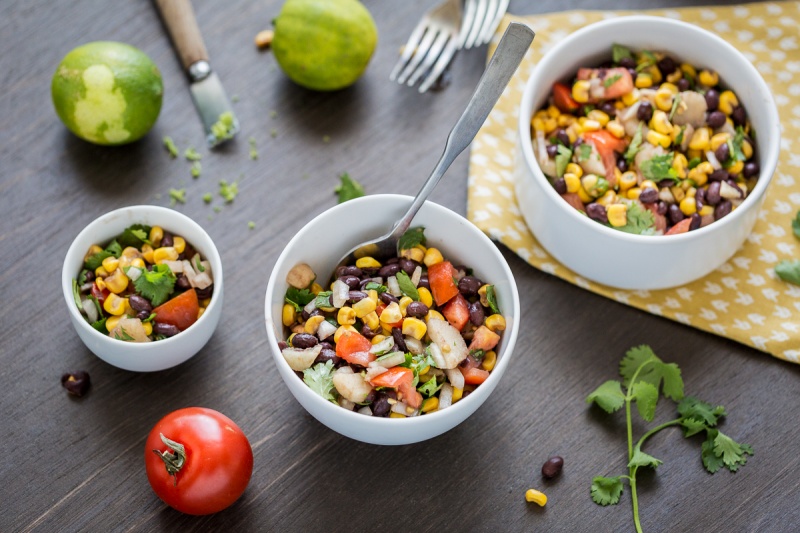 Every waking minute of his day it seems like my seven year old seems to be hungry.  As much as I try to keep his snacking to a manageable amount, it still seems like we still constantly battle over his nutritional choices.  In order to keep my own sanity, we developed a list of 5 minute snacks that we try to always have on hand.  I also have started using a family friendly version of a grocery list- a.k.a. a wall in my pantry that has been painted with chalk board paint, so that everyone can request what they want, at my discretion of course! Here's the short list of healthy snacks that can be made ahead of time with fairly minimal effort, but maximum nutritional punch!
Easy bean salad- combine 2 cans of various beans (black, garbanzo, edamame, etc.), 1/2 cup of diced red onion, 1/2 cup of diced tomatoes, 1/2 cup of diced baby carrots, 2 tablespoons of lime juice, and some dashes of Adobo seasoning.  Mix it up, refrigerate, and serve with whole grain tortilla chips.
Easy pita pizza- top a whole grain pocket-less pita with tomato sauce, low fat cheese, and diced veggies.  Bake until cheese melts.
Open face hummus toast- lightly toast a piece of whole grain bread or English Muffin, top with hummus, slices of avocado, cucumbers, and a little cheddar or peperjack cheese
For those that need something a little sweet, and a little salty try popcorn trail mix! Cook a bag of low fat popcorn, throw in a handful of raisins, a few chocolate chips, and some roasted peanuts.