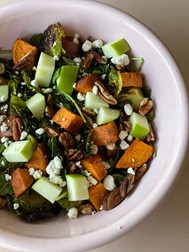 Benefits to Buying In Season Fall Produce
With the seasons changing and Autumn upon us, the air is getting crisper, and the days are getting shorter.  With this weather change comes a change in seasonal fresh produce.  Each season offers a variety of delicious fresh produce, but what are the benefits of buying in season fresh fruits and vegetables?
Fresh fruits and vegetables are available to us all year round, but there are many benefits to purchasing in season produce during the year.  In season produce is more flavorful, cost effective, and has a higher nutritional value than out of season produce.  When fruits and vegetables are harvested in season they are picked right at the height of freshness, resulting in a sweeter, juicier, more flavorful product then produce that has been harvested premature and chilled for transport.  In season produce is often sourced locally, resulting in a cheaper product because traveling expenses and storage is not needed.  In season produce is also most nutritionally beneficial to the body.  Winter fruits and vegetables are highest in Vitamin C to help heal and prevent illness.  Summer stone fruits are highest in beta-carotene to protect the skin from sun damage.  Shopping in season produce is your best option when buying fruits and vegetables.
Enjoy all the tastes of Fall with this hearty Autumn Harvest Bowl from OnPoint Nutrition.  Enjoy the sweet crunch from green apples along with fiber-rice brown rice and sweet potatoes.  These ingredients combine perfectly making each bite a unique Autumn flavored experience.
https://onpoint.netlify.app/recipes/autumn-harvest-bowl/
Ingredients:
8 oz Sweet Potato, cubed
1 cup Brown Rice, cooked
8 ounces Brussels Sprouts, halved
4 cups Arugula
1 large green Apple, Diced
3 Tablespoons Pecans
1 Tablespoon Olive Oil
1 ½ teaspoons Apple Cider Vinegar
1 teaspoon Honey
Directions
Preheat oven to 400º F. Toast the pecans for 5-7 minutes. Set aside to cool.
Line a baking sheet with aluminum foil and grease with cooking spray.
Place cubed sweet potato and brussels sprouts on the baking sheet and season with salt, pepper, and a splash of olive oil. Bake for 20-25 minutes, or until sweet potato is browned and tender and brussels sprouts are crispy. Cool completely.
Make the dressing: whisk together the olive oil, vinegar, and honey in a small bowl. Set aside.
In a large bowl, toss together arugula, cooked veggies, pecans, green apple, brown rice, and goat cheese. Add the dressing and toss to coat.
Serve immediately or increase servings for batch cooking to store and eat throughout the week!
For even more, plan some meals using this list of In Season Fall Produce:
Fall Fruits
Fall Vegetables
pears

apples

cranberries

figs

persimmons

cherries

gooseberries

dates

plums

grapes

guava

huckleberries

passion fruit

pineapples

pomegranates

pumpkin

beets

sweet potato

potato

kale

okra

parsnips

brussels sprouts

rutabagas

turnips

bell peppers

broccoli

cabbage

cauliflower

collard greens

garlic

onions

mushrooms

spinach
Awarded Philadelphia Magazine's – Best of Philly 2018, OnPoint is your go-to for all things health and nutrition. We are a team of Registered Dietitians and Nutritionists who believe in a whole foods, anti-diet approach to healthy living. Our evidence-based, one-on-one, virtual approach ensures you receive the highest level of service and sustainable results. Click here to learn more about the OnPoint approach.