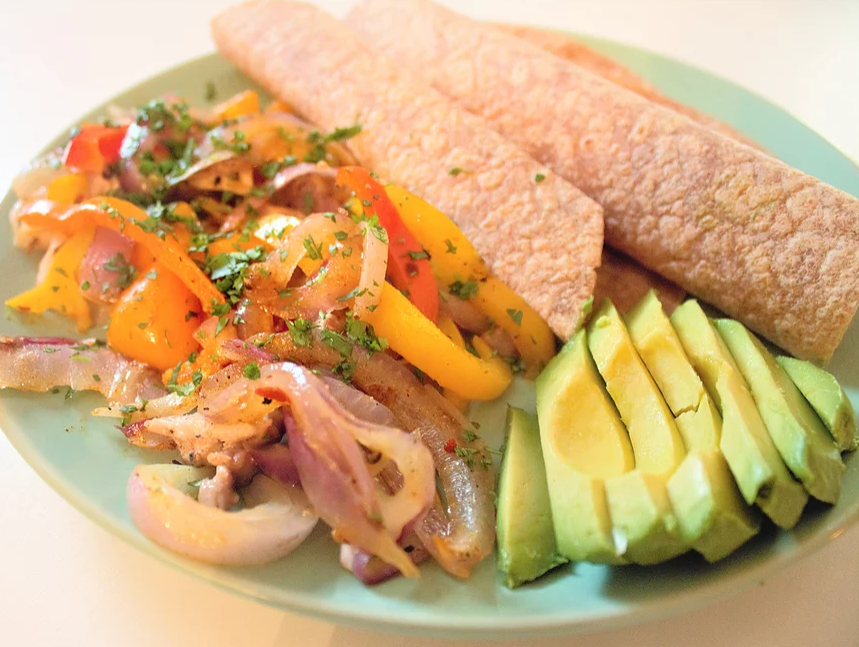 OnPoint Nutrition | Emily Pierce RD, LDN
Sheet pan meals are here to save your week nights! This cooking method can be a major time saver, and with the ability to mix and match so many different food items-the possibilities are endless. The best part about sheet pan meals? Even the most novice of cooks can pass for a master chef. You're probably thinking "okay, so what can I make into a sheet pan meal?" Keep reading for everything you need to know!
Pick a Protein
It's pretty simple. Start with a sheet pan, and think of a protein you like. Whether it's chicken, beef, fish, shellfish, or tofu; be sure you cook this ahead of time, as your protein option takes a lot longer to cook than you other components. You can pan fry all of these options-simply spray or add a dash of oil, salt and pepper the pan, add your protein, and cook away! While this is underway, take your sheet pan and heat it up in the oven, so your final product is extra crispy!
Select your Starch
Like protein options, starch options are pretty vast. Lucky for you, all of our recommended starches complement every protein option. Stick to whole grain options like beans, brown rice, and quinoa. Whole grains provide us with fiber, vitamins, and minerals to keep you full. Don't be afraid to use potatoes and sweet potatoes as your starch either. Like your protein, cook your starch option ahead of time-you can even prepare these together. If you're looking for a starch free meal, simply skip this step.
Variety of Vegetables
In our opinion, vegetables are the star of the show when it comes to sheet pan meals. They will determine the flavor palate of your dish, and most vegetables will complement any protein and starch combination. Pair zucchini and summer squash with salmon and quinoa. Or go for a stir-fry fare with snap peas, onion, and water chestnut, brown rice, and chicken. This week, we are going to give you a detailed guide on preparing a Mexican-inspired sheet pan dish! This popular cuisine can be a total gut-buster if you're not careful. Check out our chart below for choosing the healthiest options for your dinner.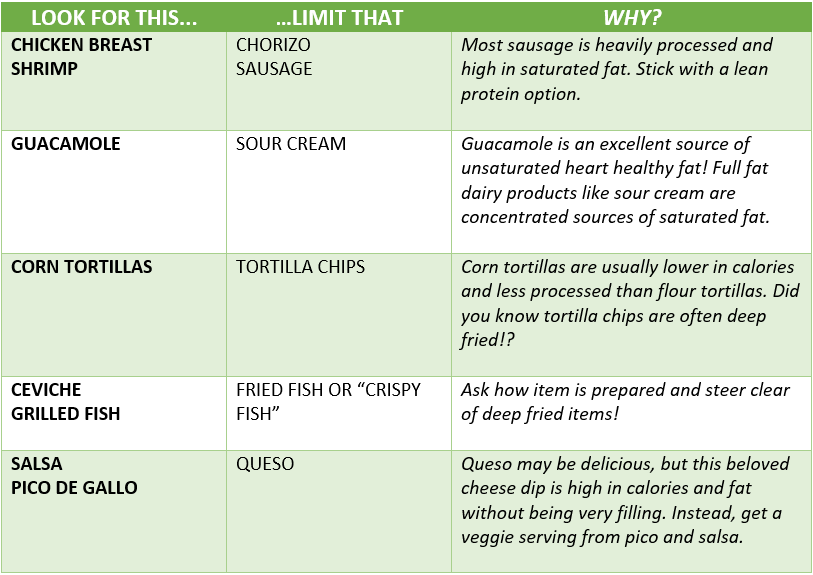 ---
Put your Skills to Practice
Spice up your week with these easy fajitas! We also love roasting potatoes with mushrooms and onions topped off with salmon this way. Mix and match any of your favorite proteins, starches, and veggies. As always, be sure to share your creations with us on Facebook and Instagram!
Sheet Pan Shrimp Fajitas
Makes 4 servings, 1 serving = 1 protein, 1 vegetable, 1 fat
Ingredients:
• 1 1/2 pounds of shrimp, peeled and deveined
• 1 yellow bell pepper, sliced thin
• 1 red bell pepper, sliced thin
• 1 orange bell pepper, sliced thin
• 1 small red onion, sliced thin
• 1 1/2 tablespoons avocado or olive oil
• 1 teaspoon kosher salt
• Several turns of freshly ground pepper
• 2 teaspoon chili powder
• 1/2 teaspoon of garlic powder
• 1/2 teaspoon of onion powder
• 1/2 teaspoon of ground cumin
• 1/2 teaspoon of smoked paprika
• Fresh lime or lime juice
• Fresh cilantro for garnish
• Corn tortillas, warmed
Instructions:
1. Preheat oven to 375 degrees Fahrenheit
2. Chop peppers and onions into thin slices, add to a large bowl
3. Preheat sheet pan for 5-10 minutes
4. Add all spices and oil to bowl and toss veggies well until coated with spices
5. Pour all veggies on sheet pan and bake in oven for 15 minutes
6. Remove pan and add raw shrimp
7. Let bake for 10 minutes, ensure shrimp is bright pink and cooked through
8. With 3 minutes left on timer, place corn tortillas on oven racks to warm
9. Remove sheet pan, garnish shrimp and veggies with cilantro, and enjoy!
10. Serve with salsa, beans, and guacamole as desired