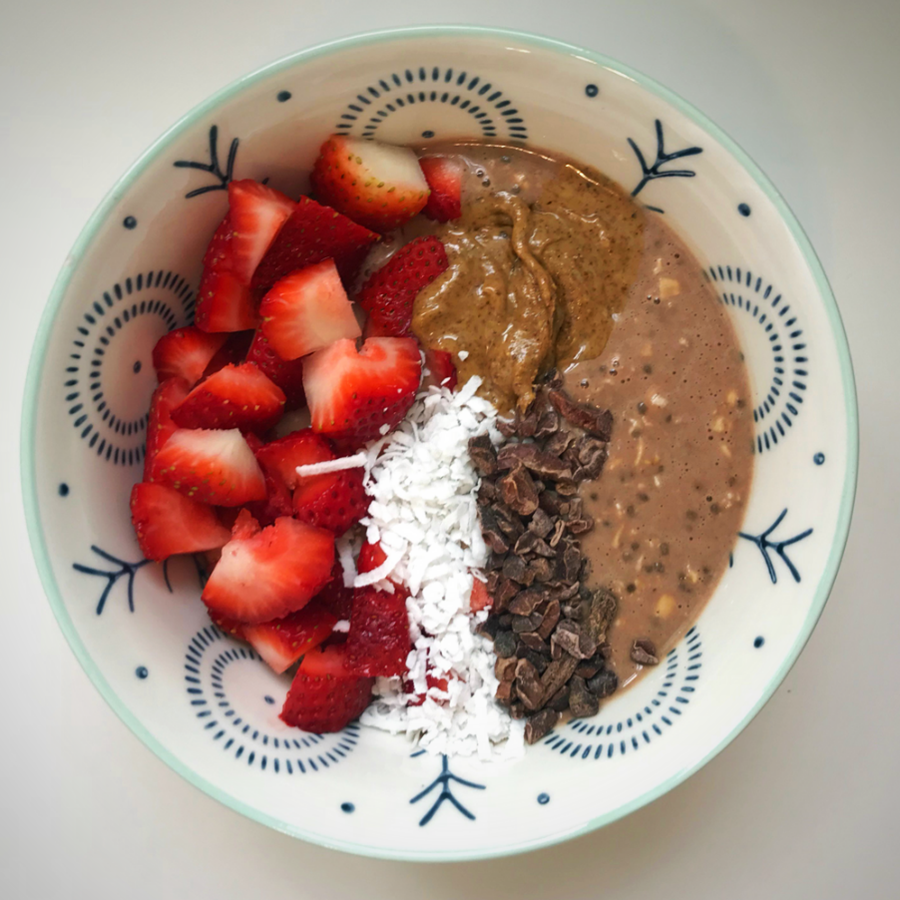 The end of summer and beginning of the school year is often a big change for many families.  After a summer of fun in the sun and relaxation, adjusting to regular sleep schedules and meal routines is a difficult transition.  Follow these 6 tips to help make back to school meal planning easier!
Eat breakfast: have a well-balanced breakfast first thing in the morning to help wake up the body for a long day of activities. Combine whole grains, with protein and heart healthy fats for all day energy.  Think about prepping overnight oats, egg sandwiches, or yogurt parfaits the night before to help make your morning easier.
Spice up your lunch: avoid repetitive lunches by adding new fruit, vegetables, condiments, or trying a new sandwich recipe every week. Not only will this keep lunches interesting but will also provide your body with a variety of vitamins and nutrients improving energy and concentration!
Plan dinners: weeknight dinners do not have to be 5-star, focus on simple meals that include protein, carbohydrates, and vegetables. Look for recipes that are 30-minutes or less, one pot meals, utilize a slow-cooker or instant pot.  This can help save time with prepping and clean up, so you can get back to homework and after school activities.
Don't forget snacks: avoid the afternoon slump by incorporating balanced snacks throughout the day. Have some fruit with a heart healthy fat between meals to maintain focus and curb hunger pains during the day.  Apples with peanut butter, grapes & hummus, oranges & trail mix make for great snack combinations!
Make a shopping list: preparing a grocery list before going to the store is a great way to organize your shopping trip, stick to a budget, and stock your pantry with nutrient dense foods. Setting your home environment with pantry and fridge staples your family loves, makes meal prepping throughout the week simple and saves time.  Having a well thought out shopping list avoids multiple trips to the store.
Involve kids in the process: children who feel in control of their own choices grow to be independent, problem solvers and are more inclined to eat the meals they had a hand in preparing. In addition, children who have a hand in preparing meals are more likely to be adventurous eaters.
Try this delicious Slow Cooker Oatmeal from OnPoint Nutrition for a quick balanced breakfast on those busy weekday mornings!
Slow Cooker Oatmeal
https://onpoint.netlify.app/recipes/slow-cooker-oatmeal/
4 servings
Ingredients
4 cups Water
2 cups Steel cut oats
4 tablespoons Natural peanut butter
3 teaspoons Cocoa Powder
1/4 teaspoon Salt
1 teaspoon Cocao nibs
1 teaspoon Shaved coconut (omit for Low FODMAP)
1/2 cup Strawberries, sliced (about 4-5)
Directions
Combine water, oats, cocoa powder and salt in a 5–6-quart slow cooker.
Turn heat to low. Cook with lid on until the oats are tender, ~7-8 hours.
Once cooked, portion into 1 cup servings and top with cacao nibs, shaved coconut, and sliced strawberries
Awarded Philadelphia Magazine's – Best of Philly 2018, OnPoint is your go-to for all things health and nutrition. We are a team of Registered Dietitians and Nutritionists who believe in a whole foods, anti-diet approach to healthy living. Our evidence-based, one-on-one, virtual approach ensures you receive the highest level of service and sustainable results. Click here to learn more about the OnPoint approach.